Attorney Ami Brooks, Successfully Lobbies for Foster Care Reform
Ami Brooks, a Russellville, Kentucky, Attorney with the law firm of Brooks & Hendricks, successfully lobbies for the passage of a bill to improve the rights of children in foster care.
Russellville, Kentucky Attorney, Ami L. Brooks, of the law firm Brooks & Hendricks, PLLC has successfully lobbied the Kentucky Legislature for passage of a bill that will help Kentucky families by requiring the Kentucky Cabinet for Health and Family Services to provide notice of Foster Care Review Board meetings to all interested parties, including parents of children in foster care, attorneys, and foster families. Senate Bill 140 was sponsored by Senator Julie Raque Adams of Jefferson County, who is the Chairperson of the Senate Health and Welfare Committee. Ms. Brooks traveled to Frankfort on Wednesday, February 25th to testify before the Senate Health and Welfare Committee regarding the bill she wrote in 2013. This is the second year she has lobbied for its passage.

"This bill is a small portion of the changes I hope to see passed by our legislature in the near future to protect and preserve Kentucky families," said Ms. Brooks. "I'd like to see a system in which the Cabinet for Health and Family Services, foster families, and families with children in state custody work together to solve the problems that have caused children to be removed from their parent's care. Focusing on the family as a whole is a key portion to protecting Kentucky's children." The bill passed the Kentucky Senate on Monday, March 6th on a vote of 36-0 and then passed the Kentucky House of Representatives on Wednesday, March 11th with a vote of 98-0. The bill has been sent to Governor Steve Beshear for final approval.

Ami Brooks has had an interest in politics from a very young age. She volunteered as a page for Senator Frank Miller when she was in middle school when Governor Beshear was then President of the Senate. Ms. Brooks minored in government as a student at Western Kentucky University during her college studies and eventually decided to follow her passion by obtaining her law degree from Nashville School of Law. She is now a partner with Brooks & Hendricks, PLCC where she practices family and juvenile law in both Kentucky and Tennessee.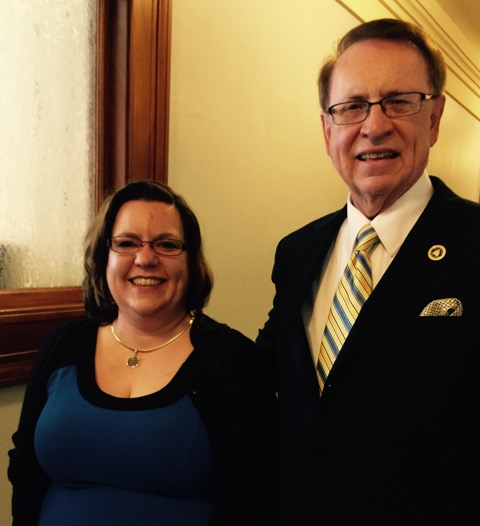 Ami Brooks with former Speaker of the Kentucky House, Jody Richards.